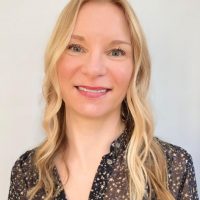 Megan Esporas
Healthcare Industry Management Consultant - Vynamic
Megan has spent her career working to improve the quality of care for children and now serves as a Healthcare Industry Management Consultant at Vynamic and as an Advisory Committee member for Ready.Sim.Go (which provides patient/family education through simulation).
Megan has extensive experience in quality improvement, program development, strategic planning, team building, and leadership. She earned her Bachelor's and Masters's in Public Health at UNC-Chapel Hill.
Megan is passionate about ensuring that young girls are provided the support and skills they need to blossom into strong women. She spent several years volunteering with Girls on the Run of the Triangle.
Megan and her husband have two young children, Henry and Millie, and live in Durham. In her free time, she enjoys traveling, reading, yoga, and spending time with friends.