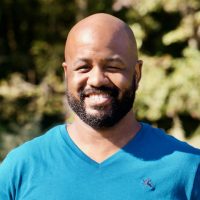 Richard Brown
IT Project Manager - City of Durham
A transplant from Orangeburg, South Carolina, Richard has spent almost 15 years finding new ways to align State and municipal organizations' goals using technology. Richard is currently employed with the City of Durham as an IT Project Manager. He earned a degree in Technology Support and Training Management from the University of South Carolina.
Richard is inspired by seeing the "lightbulb" go off as people realize that technology is another tool in the toolbox. Using this stimulus, Richard is passionate in supporting StrongHER TogetHER's mission in developing skills that will create a pipeline of strong women as leaders in their respective spaces.
Richard currently resides in Raleigh with his wife, Arlene. With his personal time, he enjoys spending time with his wife Arlene, enhancing his skills as a mechanic, woodworker, and martial artist, volunteering with other social change organizations, and curating his Transformer collection.